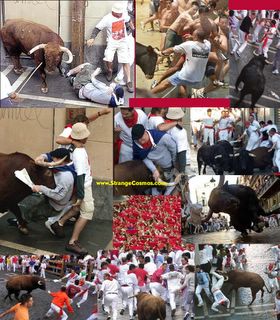 When I was younger and stupid I wanted to do the
Running of the Bulls
in Pamplona, Spain at least once before I died. I have since gained some sanity and have decided that it may not be for me.
Having kids decreases your risk/reward threshold exponentially.
I still like to follow it every year (you can watch each running live on cable) and this year some more people got
trampled and gored
as usual. They run the bulls each day at 8am local time, once a day for seven straight days. The bulls run about a half mile from the pen to the bullfighting ring and to their ultimate death at the hands of a matador. As you can see from the photo collage, you can get some serious hurt put upon you if you are running.
I still want to at least see the running in person someday, and I have heard that the festival itself is quite a good time as well.